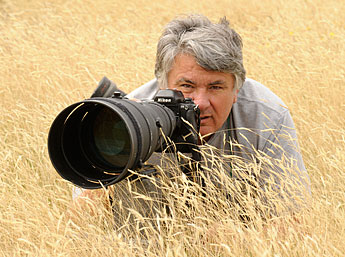 David Hallett 1955-2016
DAVID HALLETT was an accomplised photojournalist,author and publisher.
David spent his life documenting the natural and social
environment around him. He loved nature and practiced conservation. His
awareness of nature began as a teenager tramping and climbing in his native
Taranaki during which time he bought his first camera to capture the
memories and share his experiences. His resulting love of photography led him
to a a very succesful 40 year career as a photojournalist. He learned his craft at
Taranaki Newspapers before heading overseas where he worked in London,
Hong Kong and Lebanon. The beauty of New Zealand's outdoorst drew him
home and he spent five years at the Auckland Star until the newspaper closed
in 1991, then he became self employed specializing in fly fishing and yachting
photography. During this time he produced 2 books, Moods of New Zealand Fly Self portrait
Fishing and Classic Fly Fishing in New Zealand Rivers. The latter won David and
John Kent a Montana Book Award. David moved to Christchurch to work at The
Press where he worked for twelve years. During this time he produced tree
more books:Fly Fishing in New Zealand Lakes, Fiordland and Seasons of
Erewon. He also rediscovered the challenge of bird photography and this
became his passion. He won the best single picture at the Qantas Media
Awards with a photo of seven godwits landing, then in 2012 he won the NZ
Geographic Magazine wildlife photographer of the year with a photo of two
courting swallows. David left The Press in 2013 to concentrate on his
publishing business, Sandfly Publishing, and photographing New Zealand's wild
places and its wildlife. He published Native Birds of New Zealand in 2014 which
was a labour of love over many years. His bird photographs enthralled
many people, though few knew the hours he spent hidden among the rushes
to catch each perfect image. Sadly, David died suddenly and unexpectedly in
August 2016. He had just published his latest book,Tales from the Backroad
and had others in the pipeline.
He leaves behind an amazing legacy of books and stunning images.
Sandfly Publishing Ltd